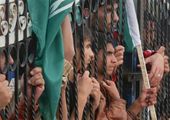 Jerusalem - Leaders of the world's biggest media organizations filed a protest with Israel's prime minister Wednesday criticizing the government's decision to ban journalists from entering the Gaza Strip for the last two weeks.
The protest was the latest in a chorus of international criticism of Israel's Gaza closure, tightened after a five-month truce began unraveling about two weeks ago in a flurry of Israeli airstrikes against militants and Palestinian rocket barrages targeting Israeli towns.
Those signing the letter included Associated Press Chief Executive and President Tom Curley, Reuters Editor-in-Chief David Schlesinger, New York Times Executive Editor Bill Keller, ABC News President David Westin, BBC News Director Helen Boaden and other top executives from CNN, the Canadian TV network CTV, the German broadcaster ZDF, and the French news service Agence France Presse.
"We are gravely concerned about the prolonged and unprecedented denial of access to the Gaza Strip for the international media," they wrote in the letter to Prime Minister Ehud Olmert.
"We would welcome an assurance that access to Gaza for international journalists will be restored immediately in the spirit of Israel's long-standing commitment to a free press," reads the letter.
After a recent upsurge in Palestinian rocket fire, Israel closed off Gaza to all but the most vital supplies. The only people allowed in or out are urgent medical cases and a handful of humanitarian workers.
Mark Regev, a spokesman for Olmert, confirmed that the letter had been received. Journalists were not being singled out, he said, but were affected by a broader decision to close the crossings:
"There is no policy to prevent the media from entering Gaza, and the minute the security situation allows for the normal functioning of the crossings, journalists, like all of the others who have been inconvenienced, will be able to return to using the crossings."
The Israeli government has long banned Israeli journalists from entering Gaza because of fears for their safety, but foreign reporters have been permitted to go in, even during times of heavy fighting. In the past two weeks, coverage in Gaza has been largely left to local Palestinian staffers and a handful of foreign journalists who entered before the closure went into effect, including two AP reporters.
Shlomo Dror, a spokesman for Israel's Defense Ministry, said journalists would be allowed in only once Gaza militants stopped shooting and said Gaza was being adequately covered by reporters already there.
While he said journalists were not being targeted,
Dror also said Israel was displeased with international media coverage, which he said inflated Palestinian suffering and did not make clear that Israel's measures were in response to Palestinian violence.
Comment: There is no room for inflating the Palestinian suffering, it is tremendous under the aggressive rule imposed by the IDF. And it is clear from the above that the Israeli government has blocked access to journalists in Gaza so that they don't report back to the world the truth of what is going on, thus keep telling their own story of being the "victims that need to defend themselves".
Israel pulled all of its troops and settlers out of Gaza in 2005, a withdrawal that was followed by an increase in rocket fire and a takeover by the Islamic militants of Hamas, a group dedicated to Israel's destruction.
Comment: Though the troops withdrew, the IDF never ceased to attack the population of Gaza by arms and inhumane sanctions, especially after they elected Hamas as their representatives via democratic elections.
"Where Gaza is concerned, our image will always be bad," Dror said. "When journalists go in it works against us, and when they don't go in it works against us."
Comment: Poor you! Those Gazans are really tainting your image as you try to eliminate them all!
Dissatisfaction with coverage would not hold up in court as a reason to bar journalists, said Dalia Dorner, a retired Supreme Court justice who represents Israeli journalists as head of the Israeli Press Council. Only concerns that "grievous harm" could befall state security could provide the legal justification for the Defense Ministry's ban, she said.
Israel's Foreign Press Association, which represents international journalists operating in Israel and the Palestinian territories, also has condemned the ban.
Ghazi Hamad, a Hamas spokesman, said the ban is part of an Israeli policy of isolating Gaza internationally. "This stops outside parties from seeing the crisis taking place in Gaza," Hamad said.
Since violently seizing control of Gaza last year, Hamas sometimes has harassed journalists, in some cases beating reporters, seizing videotapes and raiding news offices.
Comment: By spreading such lies about Hama's "violent" takeover and actions, the Associated Press journalists are complicit to the isolation of Gazans and their suffering, as they give ammunition to the murderers to continue with their ways.
The Gaza ban is the latest in a line of difficulties foreign journalists have encountered while covering the Israel-Palestinian conflict. International reporters inside Israel generally enjoy broad freedom, but must pass security checks to receive government certification and are subject to a military censor in all matters related to defense.
A number of journalists have been killed or injured by Israeli security forces during clashes in the West Bank and Gaza Strip, and reporters have also been subject to abuse by Palestinian security forces and kidnapped by militants.
Comment: So much for the "broad freedom" foreign journalists enjoy inside Israel. Unless death and injury are considered forms of freedom.
The news executives' letter came as international criticism of the closure grew. U.N. chief
Ban Ki-moon called Olmert on Tuesday to express concern
about a possible humanitarian crisis in Gaza, home to a largely impoverished population of 1.4 million. A group of 21 aid organizations also charged the closure was harming their Gaza operations. The current European Union president, France, issued an unusually strong protest saying the closure was a "disproportionate response" that would "collectively punish" Gaza's civilians.
Gazans are facing a shortage of basic goods and fuel. Restaurants and bakeries across the strip are closing as cooking gas runs out.